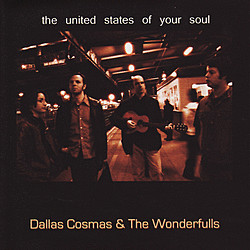 Second album album with explosive musicianship featuring The Wonderfulls on a song-cycle testifying the personal & political. .
1. The United States of Your Soul
2. After the War
3. What Now, Lord
4. The Snare in A
5. Aint it a shame
6. Some Time
7. Radio Waves
8. Anywhere Else
9. Black is the colour
10. Voila les Clowns
11. Open Up
12. Papergold
13. Canyons
14. Window Man
15. Let's Make Believe
+ Video: Black is the colour
Released: 09-06-2006
Produced by Dallas Cosmas and Simon Segal @ Wingate Studios
vocals,bass,piano,additional guitars – Dallas Cosmas
arranged with the Wonderfulls:
drums,percussion,backing vox – Bindy Cohen
slides,guitars,backing vox – Matthew Shadwick
sonic guitars,vocals – Wally Rankin
additional keys,duet – Simon Segal
surprise duet – Nathalie Cosmas
Engineered by Simon Segal,Bindy Cohen,Dallas Cosmas,Geoff Marquis
photography/artwork: Benjamin Charavner, John Englezos, Nathalie Cosmas.
engineering: Bindy Cohen,Simon Segal,Dallas Cosmas.
mastering: Martin Pullan @ Edensound
All songs Cosmas © 2006