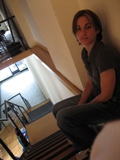 (The following interview was conducted by Susan Hume during the recording sessions for The United States Of Your Soul. Susan has a long & close connection with the collaborators at Prototype Musique. Formally singer and prime mover of Creature Seed, she's currently piecing material together for a major musical project.)
How long have you been playing music?
I've been playing drums for 19 years… I also learnt guitar along the way… When I was studying music at TAFE & Uni I took up percussion as a second instrument.
What else have you been doing musically of late- apart from working on this album?
I have been doing some writing with a friend, which has been really good. Mainly working on the rhythmic side of things- also dabbling in a bit of bass playing and guitars- which is not what I do best, but it's been fun anyway…
How did you come to be playing on this album?
Dallas & I have known each other for 12 years or so… we first played together in the band Silent Poets and then later in Creature Seed. We parted ways for a little while and now we're back together for this.
What is your favourite song from the album?
I would have to say 'Snare in A' is probably a current favourite.
It does seem that what I've heard from this album & what you've done so far- has really brought out the musicality in your drumming…
I feel as though the last 19 years of playing have come together for this album; everything I've learnt has come into play. With Dallas there has been no limitations… there has been guidance, from his point of view as a songwriter but I have been able to explore the songs and to add my own interpretation also.
On a few of the songs I'm actually playing parts that I didn't think I could play….
What characteristics do you hope to have brought to the album?
I think I've brought a solid foundation to the songs. Along with the bass, the drums are where the song starts & everything else sits over the top of them.
What do you like most about Dallas' writing & playing?
This group of songs is the best that he's ever written. Maybe it's the attitude in which part of the writing/recording has been done. Just before I feel we have actually nailed a song we stop recording- he has tried to capture the recording 'in the moment' instead of going over & over songs. I love the fact that with his songs there's plenty of room to be yourself as a player- it's Dallas' music but in a way you feel as though it's yours as well. You are really a part of the creative process.
What other music are you listening to at the moment?
I'm all over the place at the moment… Coldplay, for me, was an album of raw & real music.
Are you looking forward to going from this recording process to live performance?
Yes, without a doubt. For me I love gigging. I must say though, I always thought that I only liked playing live but recording this time around I have really enjoyed.
I am really looking forward to playing these songs live!!