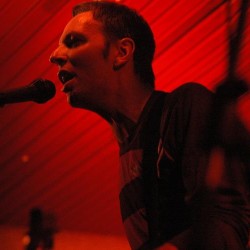 (The following interview was conducted by Susan Hume during the recording sessions for The United States Of Your Soul. Susan has a long & close connection with the collaborators at Prototype Musique. Formally singer and prime mover of Creature Seed, she's currently piecing material together for a major musical project.)
Dallas Cosmas has come a long way since writing his first song at the age of ten. His songs today, while still just as universal, carry the depth and understanding that only years of experience and soul-searching can uncover.
My first association with Dallas began in 1992. At that time, he was co-headlining a local outfit called "Silent Poets" with guitarist and vocalist, Mark Hughes, and The Wonderfulls drummer, Bindy Cohen.
Twelve years later, I was fortunate to catch up with Dallas and his band while they were recording his new album, 'The United States Of Your Soul' at a studio in an outer suburb of Melbourne.
An album described as magical, beautiful and straight from the heart.
Recording from a home studio has had its advantages as Dallas explained to me:-
"It's really been quite a freeing experience. I tend to get too obsessed with the songs. I find it comfortable here but it's also good to be able to walk away rather than if it was all taking place somewhere else."
Dallas entered this recording with a different approach from his last album. Much of this being dependant on the fact that, with this album, he already had a band and had been playing live.
"I feel like it's been about learning what the band could offer and then trying to capture the spirit of the band in this environment of recording."
The musicians Dallas has playing on this album (and live) are rather diverse. This is apparent particularly with the two guitarists Matthew Shadwick and Clinton Rankin.
They play from opposite ends of the spectrum as far as style is concerned and yet compliment each other beautifully. I asked if this was Dallas' intention:-
"I don't know how conscious of it I was at the time, but I think it was part of it. I certainly felt like Wally (a.k.a Clinton) would push Matthew into areas that he naturally wouldn't go to and that Wally who is kind of like a ball of fire would probably be having the reigns pulled on him a little.
Last time I did a lot of the guitar playing in more of a mellow way, and sometimes I just wanted it heavier. I feel like Matthew and Clinton are the two extremes of what I imagined in my head so as a writer, that's really exciting because they can take it to the furthest corners and beyond."
Is there a theme running through the album?
"It's really just come about these past few months, actually. I got this idea of how we have a perception of ourselves but how is other people perceiving us? How do we be present in the here and now?"
In music, Dallas lives for the instant when everything just fits. In a way, the importance is not focused on the technicalities of how a song is played but instead whether the true intent of the song is there.
Dallas carries this theory to each recording:-
"Ultimately I love the whole creation process. The one thing about this record I was really conscious about was that we wouldn't be too over rehearsed, so that there was room for us to know at what point it was just coming together and then when to stop.
In the same way that a gig is special and for the moment, I've really wanted to get that across in a recording. If there's just that feeling of a joy within the song, I know that that's the take."
I asked Dallas if the same musicians that recorded 'The United States Of Your Soul' will be the line up of The Wonderfulls when the album is taken to a live medium:-
"Everyone has been such a part of it and everyone's characters are there in the songs. They're not just my songs anymore. They are all the musicians."
What word best describes "The United States Of Your Soul"? 
Heart.
What are you hoping to do with this album?
I would love to shake things up a bit. Everything evolves and the world's become a different place. There is a lot of really good music out there but it doesn't get the recognition it deserves. People are desperate to be touched by something that is real. It's human nature. I'm not saying I'm the person, but I really want to be a part of that realisation. We're living in a world that's forced fed with fear of what we don't understand, and we have to get over that.
What music are you listening to currently?
All kinds of things but one particular artist comes to mind, Serge Gainsbourg, who passed away in the early nineties…He had a really long career in France. He was classically trained, went to jazz then he did soundtracks, pop, rock. He was the first westerner to go to Jamaica and make an album with Jamaican musicians. He did hip hop…everything. He could manage everything musically and had no fear. He is a great inspiration to me…
What was it like playing your music to a new audience in France?
The first thing is, when playing in a foreign country, you wonder how much they understand. But I guess because they're not hearing it in the same way, the people that enjoyed it, really wanted to show that they did. It was a really good feeling. It just confirmed for me that music is a universal language. It's good anywhere.
Do you remember the first song you ever wrote?
It was a song titled 'The Girl'. I was ten. I thought I'd broach a subject that no-one had touched on before (laugh)… We thought it was a hit.